Palestinian and Israeli exchanges shake Gaza cease-fire
(Read article summary)
A roadside bomb hits Israeli forces, and Israel responds with airstrike.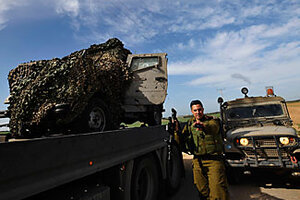 Hatem Moussa/AP
A roadside bomb hit an Israeli army patrol along the Gaza border Tuesday, prompting Israeli counterstrikes. The exchanges threatened the cease-fire that has largely prevailed since Israel ended its three-week offensive Jan.
17.
The Los Angeles Times reports that one Israeli soldier was killed and another seriously wounded when an explosive device detonated along the border fence between Gaza and Israel. Israel responded with tank fire and helicopter strikes, reportedly killing a Palestinian farmer, according to the newspaper.
The clash, near the central Gaza border crossing of Kissufim, is the most serious threat so far to the separate cease-fires declared by Israel and Hamas.....
There was no immediate claim of responsibility for the attack. Israeli officials maintain that they hold the militant group Hamas, which controls Gaza, responsible for the actions of all Palestinian resistance factions.
Gazan militants have remained quiet since Jan. 18, but the Israeli navy has regularly fired warning shots at Gazan fishermen, and there have been at least two incidents of Palestinians shot by soldiers across the border.
---