Growing Taliban clout threatens Pakistani government
(Read article summary)
The group controls large areas in the Swat Valley and runs a parallel court system under sharia law.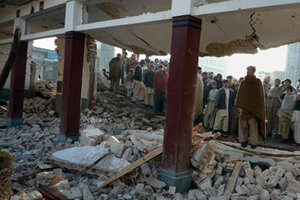 Sherin Zada/AP
As the Obama administration repositions Pakistan's tribal belt as the "central front" in the war on terror, one troubled spot is fast emerging just 100 miles from the Pakistani capital: the Swat Valley, where the Pakistani military has launched a new offensive against Taliban militants.
Yesterday, shelling killed five civilians, according to Dawn, an English-language Pakistani newspaper.
"The military had cleared the areas but militants penetrated them again and it was decided to clear them again and hold on to it to prevent militants' movement there," Director-General of Inter-Services Public Relations (ISPR) Maj-Gen Athar Abbas told Dawn.
The army, he said, was following a "new strategy to clear" major urban areas and villages from militants. "There is a new vigour and new approach," Gen Abbas said.
The Swat Valley is not part of Pakistan's tribal belt; it is part of Pakistan proper, in the North West Frontier Province. And yet it is here that the Pakistani Taliban, led by a radical cleric named Maulana Fazlullah, have scored some of their greatest victories, seizing large swaths of territory and holding the Pakistani military at bay for some 18 months.
---