Pakistani militants cut off key NATO supply line to Afghanistan
(Read article summary)
The attack highlights the need for alternative routes.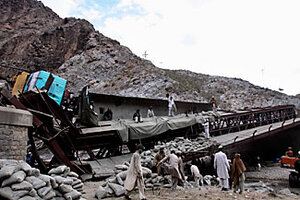 Mohammad Sajjad/AP
Islamist militants in Pakistan blew up a bridge through the mountainous Khyber Pass early on Tuesday, severing a key supply route for US and NATO troops in Afghanistan. Periodic attacks on the route have pushed the international forces to seek alternative ones outside Pakistan.
All traffic on the bridge has come to a halt, The Press Trust of India reports, including dozens of supply trucks bound for US and NATO forces.
The bridge connects Peshawar, the largest city in the Northwest Frontier Province, with the Khyber Pass, the primary route into Afghanistan.
Militants have harassed NATO supply lines in northwest Pakistan for several months, conducting ambushes on convoys and attacking truck depots in Peshawar itself, according to the news service. It says Tuesday's bridge attack may be a result of increased security at supply depots.
The Associated Press reports that the bridge is about 15 miles northwest of Peshawar.
A NATO spokesman in Afghanistan confirmed that supplies along the route had been halted "for the time being," but stressed the alliance was in no danger of running out of food, equipment or fuel....
It was not immediately clear whether supply convoys could reach Afghanistan through alternative routes in the region, nor how long it would take to rebuild it.
---