US Navy captures suspected pirates in Gulf of Aden
(Read article summary)
The seven men arrested will be turned over to Kenya, which plans to set up a court to try pirates.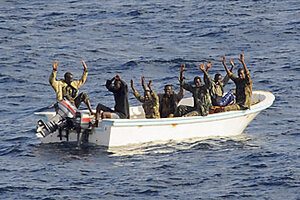 Jason R. Zalasky/US Navy/Reuters
Seven men accused of trying to hijack a tanker in the Gulf of Aden were detained by a US naval ship, the first arrest by a US-led task force sent to the region to confront a spike in piracy.
CNN reports that the USS Vella Gulf responded Wednesday to a distress call from the Polaris, a 420-foot tanker after a group of men allegedly sought to board the vessel.
The Navy Times reports that Vella Gulf personnel searched the suspects' skiff and found several weapons. The Navy plans to transfer the suspects to a US supply ship in which a hold has been outfitted as a makeshift prison guarded by Marines, before transferring them to authorities in Kenya, which is setting up a new court system to try foreign pirates.
The International Maritime Bureau said last month it had recorded 111 attacks in the waters off Somalia in 2008, nearly double the number in 2007. Other estimates run higher because ship owners don't always report hijackings.
---