Philippine military closes in on hostage-takers
(Read article summary)
A spate of kidnappings by Abu Sayyaf raises concerns that the Islamist militant group's strength is growing.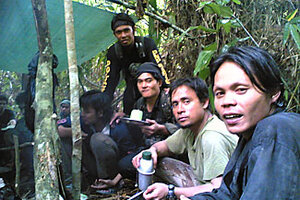 Philippine government official/AP/FILE
A summary of global reports on an issue in terrorism and security.
The Philippines military said over the weekend that it has cornered a militant group that has held three Red Cross workers hostage in the jungle for more than a month.
Just a few years ago, the Islamist militant group Abu Sayyaf was thought to be a spent force, after they were targeted in a successful US-backed military campaign. But a spate of kidnappings in recent months has fueled concerns that the militants have regrouped under new leadership.
In the latest incident, a Sri Lankan peace activist was abducted on Feb. 13, one of 10 hostages now in Abu Sayyaf's hands.
The three aid workers were kidnapped Jan. 15 on the island of Jolo, part of an island chain in the Philippines' deep south that's long been a hotbed for Islamic militancy. (Click here to see a map of the region.)
Agence France-Presse reports that the military has trapped Abu Sayyaf kidnappers and their Red Cross captives in a 1.5-square-mile area of jungle, and is weighing its next move.
Swiss national Andreas Notter, Italian Eugenio Vagni, and Filipina Mary Jean Lacaba were abducted by gunmen while returning from inspecting a water and sanitation project at a prison in Jolo.
---