Gunmen attack Sri Lankan cricket team in Pakistan
(Read article summary)
At least six people were killed when militants ambushed the team's convoy.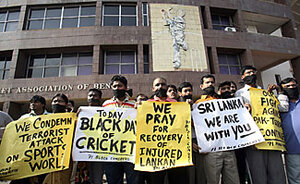 Jayanta Shaw/Reuters
• A daily summary of global reports on security issues.
At least six people were killed and eight injured when gunmen attacked a convoy carrying the Sri Lankan cricket team and match officials in the Pakistani city of Lahore on Tuesday. The attack has been widely condemned and is being seen as an indication of the country's deteriorating security. Many in the cricket community say that this attack will be the death knell for international cricketing contests in Pakistan, which is scheduled to cohost the 2011 Cricket World Cup.
According to the BBC, a gun battle raged between militants and the Sri Lankan team's police escort near the main sports stadium in Lahore on Tuesday morning. At least five policemen and a driver were killed, and seven team members and an assistant coach were wounded, reports the news service.
Reports suggest 10 to 12 gunmen ambushed the team coach and its accompanying police detail on a roundabout in the heart of Lahore, as the convoy was on the way to the Gaddafi stadium for a Test match.
The BBC's Barbara Plett in Islamabad says accounts suggest the attack was sophisticated in nature, with one group of gunmen firing a rocket-propelled grenade in order to create a diversion, while others then approached, firing guns on the convoy.
She says the gunmen – two of which were shown in TV pictures carrying backpacks – seemed to be well-trained.
---