Mexico sends troops to border city in bid to control drug violence
(Read article summary)
The buildup in Ciudad Juárez, an entry point for drug smuggling on the US border, is meant to stop vicious fighting between drug cartels.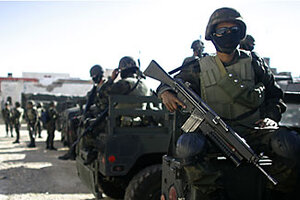 Miguerl Tovar/AP
• A daily summary of global reports on security issues.
Signaling a sharp uptick in an already volatile war, Mexican troops this week poured into a city on the US border, the first of many such deployments expected in coming days.
The BBC reports that more than 1,500 Mexican troops have already moved into Ciudad Juárez, which is in the midst of a turf war between rival drug gangs.
Soldiers moved into Ciudad Juarez to try to regain control of a city in which more than 2,000 people have been murdered over the past year.
Officials say they intend to have 7,000 troops and police in position by the end of the week.
Rival gangs are battling for control of the city, which is a key entry point for drug smuggling into the US.
Their presence is already having an impact, according to the El Paso Times.
The influx of thousands of Mexican soldiers into Juárez is being credited for a sharp drop in the number of daily homicides while officials prepare for the military to take command of city police and other departments.
Three homicides occurred in the Juárez area in the first three days of March compared with 28 in the first three days of February, which ended with more than 200 people killed, according to information provided by Chihuahua state police.
---