North Korea warns of war over 'satellite test' interference
(Read article summary)
The move comes as South Korea and the US begin a large-scale joint military exercise.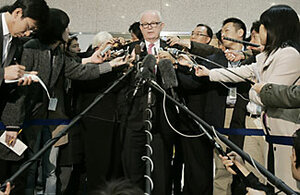 Ahn Young-joon/AP
• A daily summary of global reports on security issues.
North Korea amplified its saber-rattling Monday, putting its armed forces on alert and warning the West of war if any nation interferes with its planned satellite launch.
The United States and other countries believe the launch is cover for a test of Pyongyang's intercontinental ballistic missile. The missile, which can be armed with nuclear warheads, is capable of hitting Alaska and Hawaii, at least in theory. (See a graphic with a map here and a political cartoon from caglecartoons.com here.)
The brinksmanship comes as the US and South Korea begin their annual large-scale military exercises today. North Korea fears such exercises could mask an invasion, and last week said it couldn't guarantee the safety of passenger planes flying near its airspace.
---