US considers broadening drone airstrikes in Pakistan
(Read article summary)
Obama urged to expand attacks beyond tribal areas to territory controlled by the Pakistani government.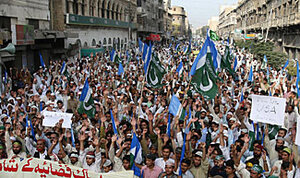 Reuters
• A daily summary of global reports on security issues.
The US may begin expanding airstrikes in Pakistan "far beyond the unruly tribal areas" along the border with Afghanistan, reports The New York Times.
US officials say that the Taliban and other insurgent groups have moved south around the city of Quetta where they are launching attacks into southern Afghanistan. (Click here to see a map of the region.)
In recent weeks the White House has received two high-level reports recommending broadening the US covert war in Pakistan beyond the tribal areas. President Barack Obama has long been committed to targeting these groups, but the airstrikes have proved a source of tension with Pakistan and there are concerns that expanding the attacks may strain relations further, reports the Times.
Many of Mr. Obama's advisers are also urging him to sustain orders issued last summer by President George W. Bush to continue Predator drone attacks against a wider range of targets in the tribal areas. They also are recommending preserving the option to conduct cross-border ground actions, using C.I.A. and Special Operations commandos, as was done in September. Mr. Bush's orders also named as targets a wide variety of insurgents seeking to topple Pakistan's government. Mr. Obama has said little in public about how broadly he wants to pursue those groups....
"It is fair to say that there is wide agreement to sustain and continue these covert programs," said one senior administration official. "One of the foundations on which the recommendations to the president will be based is that we've got to sustain the disruption of the safe havens."
---