As US public sours on Afghanistan, Obama calls for 'exit strategy'
(Read article summary)
The president said the US cannot stay indefinitely.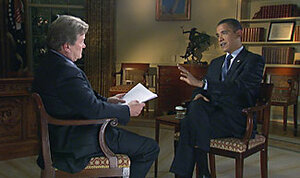 Courtesy of CBS News 60 Minutes/Reuters
• A daily summary of global reports on security issues.
President Barack Obama stressed that the United States must have an "exit strategy" for Afghanistan in an interview aired Sunday, as his administration prepares to send thousands more troops to the troubled nation to help tame the Taliban insurgency.
The president's remarks come amid mounting public concern over Afghanistan and antiwar protests this weekend in three US cities.
A recent USAToday/Gallup poll cited in The Leaf-Chronicle showed growing skepticism of the US military mission in Afghanistan.
According to the poll released this week, 42 percent of respondents said the United States made "a mistake" in sending military forces to Afghanistan, up from 30 percent last month and just 6 percent in January 2002.
The US currently has some 38,000 troops deployed in Afghanistan, and plans to send 17,000 more soon. (See a map of the country here.) Mr. Obama made the comments on CBS's "60 Minutes" program. (See highlights here and full interview here.)
---