Piracy 'surge' off Somali coast
(Read article summary)
Pirates seized five ships in a 48-hour period ending Monday.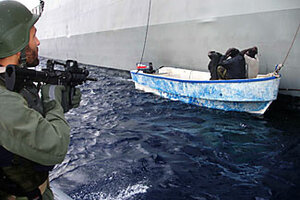 Greek Navy/AP
• A daily summary of global reports on security issues.
Pirates off the coast of Somalia have gone on the offensive, seizing five ships in 48 hours despite the presence of an international naval task force patrolling the Gulf of Aden.
The New York Times reports that the pirates are changing tactics by going after ships further out at sea. The five ships seized, according to Kenyan maritime groups, include a German freighter, a Taiwanese fishing trawler, a Yemeni tugboat, a French yacht, and a British cargo ship.
The Times reports that the pirates netted more than $100 million last year in ransom paid for the return of hijacked ships.
The Associated Press reports that one of the latest ships seized by the pirates, the Taiwanese ship hijacked Monday was taken near an island in the Seychelles in the Indian Ocean.
---