Somali pirates launch failed attack on second US vessel
(Read article summary)
The ship escaped an assault that may have been rooted in revenge for three pirates' deaths during the US Navy's rescue Sunday of the Maersk Alabama's captain.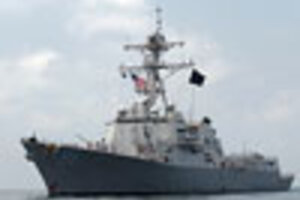 US Navy/AP/File
• A daily summary of global reports on security issues.
Pirates in Somalia tried unsuccessfully Wednesday to hijack another American vessel, following vows to increase attacks on American interests. The incident, which comes days after Somalian militants fired on a visiting US congressman, highlights the challenge that an increasingly unstable Somalia poses for the Obama administration.
Wednesday's attack took place in the early morning hours off the Gulf of Aden, The Guardian reports.
The ship managed to out-maneuver the pirates before being assisted by the USS Bainbridge, "the navy destroyer involved in the rescue last week of another American cargo ship," reports The New York Times.
Following the rescue of Mr. Phillips, Somalian pirates vowed to take revenge, according to Al Jazeera.
---