Pakistan intensifies fight against Taliban
(Read article summary)
Militants suspended peace talks with the government as troops continued an offensive in the Dir district.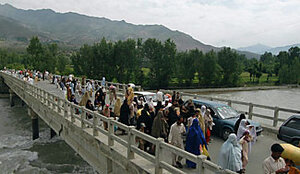 Inam Khan/Reuters
• A daily summary of global reports on security issues.
The Pakistan Army intensified its operation Tuesday against militants in the Lower Dir district in the country's northwest. The operation, which began on Sunday, has already claimed the lives of 50 militants and 13 security forces. In response, the Pakistani Taliban have suspended their talks with the government.
Religious political parties have widely condemned the operation, pointing out that it violates a peace-for-sharia (Islamic law) deal that the government recently struck with militants, and which was subsequently approved by the Pakistani Parliament. But the international community is encouraged by the government and Army's decisive response to Taliban presence in Dir. During his visit to Islamabad on Monday, British Prime Minister Gordon Brown hailed the operation and offered Pakistan continued support in its fight against terrorism.
Meanwhile, the Pakistan government on Tuesday announced that the military operation would not end with Dir and would extend into Buner and other neighboring regions if Taliban militants did not withdraw from the area.
---