Taliban announce 'countersurge' in Afghanistan
(Read article summary)
The militants have vowed to launch a new offensive against US and its allies, which are preparing to increase troop levels.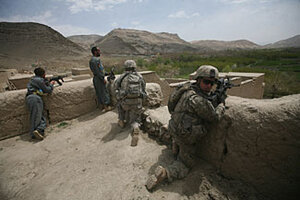 Rafiq Maqbool/AP
• A daily summary of global reports on security issues.
The Taliban have vowed to launch a new offensive this summer in Afghanistan against the government and the foreign soldiers stationed there. The news comes as the United States and its allies plan to increase their troop presence to counter the growing Taliban threat.
A wave of suicide attacks and ambushes will start Thursday, according to the Taliban website, al Emerah.
Since America and NATO have resolved to send extra troops to Afghanistan, therefore, the Afghans too in response feel the need to start rapid and strong operations, as part of their struggle, to defend themselves and to free the country…
The targets of these operations will be the military units of the invading forces, diplomatic centers, mobile convoys, high-ranking officials of the puppet administration.
---