Sri Lanka accused of shelling civilians
(Read article summary)
At least 378 died in an overnight bombardment, a government doctor said. The military denies the attack.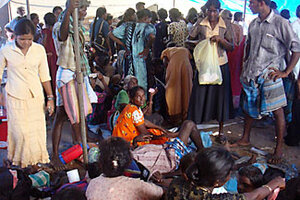 AP
• A daily summary of global reports on security issues.
Already facing allegations of human rights abuses and war crimes, the Sri Lankan government may have implicated itself further amid new allegations that it shelled civilians on Saturday and Sunday. The alleged bombardment, part of the government's bid to end the protracted standoff with the last remaining elements of the separatist Liberation Tigers of Tamil Eelam (LTTE), has reportedly left hundreds dead and injured.
The military has denied the attack, but a government doctor quoted by the Associated Press said more than 378 people had been killed and 1,100 wounded.
For weeks, Sri Lankan government forces have had the LTTE cornered in their last remaining stronghold on the northern tip of the island nation. Thousands of civilians are trapped inside LTTE fortifications. The rebel group has been accused of using them as human shields.
With a media ban still in place, it remains difficult to verify these claims, reports the BBC. The news channel's correspondent in Colombo, however, said "health officials are convinced the shells are coming from territory held by the Sri Lankan army." Additionally, he reported that "two hospitals were struggling to cope with the casualties, and that people were hiding in bunkers and many makeshift tents had been burnt."
---