Suicide bomb in Pakistan kills 30
(Read article summary)
The attack in Lahore is the nation's deadliest this year and underscores the spread of the Taliban insurgency.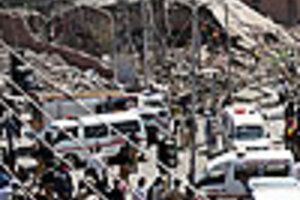 Mohsin Raza/Reuters
• A daily summary of global reports on security issues.
A devastating suicide bombing rocked the eastern Pakistani city of Lahore on Wednesday, killing 30 people and wounding more than a 250. It was the deadliest attack in Pakistan this year, and underscored that a roiling Taliban insurgency is spreading deeper into the country.
Until recently, Pakistan's eastern border near India had largely remained outside the theater of conflict. Most attacks have taken place in the West, just a few miles from the Afghan border, in regions like Swat, Buner, and Waziristan, where Pakistan's military has been battling militants for the last several months.
But Wednesday's bombing was the third in as many months to strike in or around Lahore, a vibrant and tolerant city of 15 million. And it followed a pattern consistent with Taliban attacks, striking a symbol of the Pakistani state: buildings belonging to the city's emergency services police. It may also have been intended to target nearby buildings of the InterServices Intelligence, or ISI, the country's intelligence wing.
---