Israel rejects US call for settlement freeze
(Read article summary)
A spokesman for Israeli Prime Minister Netanyahu said "natural growth" would continue in existing settlements after US Secretary of State Hillary Clinton called for a complete halt.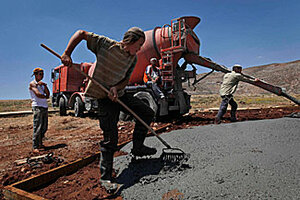 Tara Todras-Whitehill/AP
• A daily summary of global reports on security issues.
Israeli officials have quickly rejected the Obama administration's firm call Wednesday for a halt to Israeli settlements without exceptions. It is a new setback to President Obama's efforts to reignite peace talks between Israelis and Palestinians and comes as the president meets with Palestinian President Mahmoud Abbas on Thursday.
Obama's hard line on settlements, likely a bid to garner support among moderate Arab nations who would likely be willing to make concessions if Israel enacted a settlement freeze, is being met with expected enthusiasm from Palestinian officials. Israel had agreed to halt settlements under the Bush administration's 2003 road map plan.
On Wednesday, Secretary of State Rodham Hillary Clinton indicated there was no wiggle room in Obama's position, reports the BBC: "Not some settlements, not outposts, not natural growth exceptions. We think it is in the best interest of the effort that we are engaged in that settlement expansion cease."
Palestinian officials have said they will not resume peace talks with Israel unless it removes all roadblocks and freezes settlement construction. Some 500,000 Israelis live in more than 100 settlements within the West Bank.
---