Pakistan closes in on Swat Valley victory over Taliban
(Read article summary)
Government officials say the month-long military offensive is within days of accomplishing its goal. Next up: a second offensive in South Waziristan.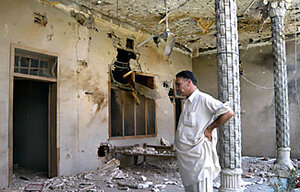 Naveed Ali/AP
• A daily summary of global reports on security issues.
Pakistan's defense minister on Sunday predicted victory to be just days away in the government's month-long military offensive in the Swat Valley, a Taliban stronghold. Once that is accomplished, government officials said the military is likely to launch a second offensive in Waziristan, where Pakistani forces killed as many as 40 militants on Sunday.
Militant violence has been on the rise in Pakistan's tribal areas, raising concerns about the stability of a nuclear-armed nation that the US sees as vital to its war on terror. The region, located along Afghanistan's border, is home base for the Taliban's fight against Pakistan, as well as Afghan and US forces next door. South Waziristan alone is believed to host up to seven training camps for would-be suicide bombers, according to a detailed BBC map and accompanying briefing page.
On Sunday, Reuters reported that Taliban fighters attacked a paramilitary camp used by pro-government forces in the South Waziristan town of Jandola late on Saturday. Estimates of the number of casualties vary widely, and no figure has been independently confirmed.
"Militants came in force and attacked a paramilitary camp and fighting lasted for eight hours. At least 40 militants were killed while four soldiers died," said an intelligence official in the region who declined to be identified.
A military spokesman said the militants had been pushed back after a heavy exchange of fire. Up to 15 militants and three soldiers were killed, he said.
---