Pakistan reports first militants killed in South Waziristan
(Read article summary)
As many as 50 died Saturday as the military prepares to officially launch an offensive in the Taliban stronghold.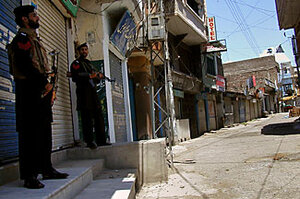 AP
• A daily summary of global reports on security issues.
Pakistani officials reported the first militant casualties in the Taliban stronghold of South Waziristan Saturday since the Army began preparing an offensive there earlier this month. It is shifting focus to this tribal area as it wraps up another offensive to push the Taliban out of nearby Swat Valley.
The international community sees Pakistan's offensives as a test of its commitment to combating homegrown extremism. But observers caution that extremist violence is a nationwide problem that a military offensive may not be enough to end. Without a plan to secure territory it wrests from the Taliban and defend cities from reprisals, Islamabad may not succeed in weakening their influence.
[See maps of Pakistan's tribal regions here and here]
Maj. Gen. Sajjad Ghani, who leads 20,000 troops in Swat, told The Associated Press Saturday that most operations there would be over within 10 days. That would pave the way for opening a second front in Waziristan, where army units have moved into strategic positions and shelled and bombed suspected targets. Fighting on Saturday killed as many as 50 militants – the "first known militant casualties in South Waziristan," according to AP.
---