After Iran's election, what happens to Obama's engagement policy?
(Read article summary)
Some are criticizing the president's determination to engage Iran on its nuclear program amid a brutal government crackdown in the aftermath of what many say is massive election fraud.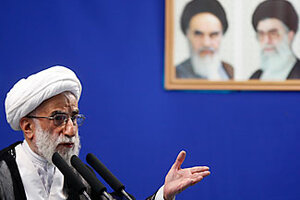 Vahid Salemi/AP
• A daily summary of global reports on security issues.
With protests against the results of the recent presidential election in Iran appearing to have ebbed, the world's governments are facing the prospect of dealing with an Iranian government still led by President Mahmoud Ahmadinejad. 
And while US President Barack Obama stated in a recent Associated Press interview that he is "not reconciled" with a nuclear-armed Iran, the efficacy of his policy of diplomatic engagement with the Iranian government – which much of the world believes installed itself through electoral fraud – has come under debate.
Reuters reports that German Chancellor Angela Merkel reiterated her support for Mr. Obama's continued efforts to engage Iran in spite of the protests over its recent election. In a speech to the lower house of the German parliament, Ms. Merkel said that Germany "will accompany [Obama's approach] in a united way. We cannot drop the issue of a nuclear-armed Iran just because of the current situation. That would be completely wrong."
---