Ahmadinejad blames West for fomenting Iran unrest
(Read article summary)
The Iranian president's accusations come as opposition leaders start movement, challenge Supreme Leader's standing.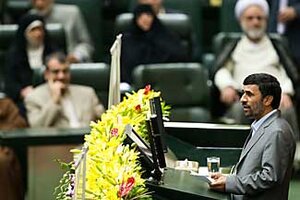 Raheb Homavandi/ Reuters
• A daily summary of global reports on security issues .
Iranian President Mahmoud Ahmadinejad accused the West of attempting to foment the overthrow of the Iranian government on Sunday, even as Iranian reformers launched new critiques of the Iranian government and its Supreme Leader Ayatollah Ali Khamenei. Reuters reports that Mr. Ahmadinejad warned that the West that it would be "held accountable" for what he claims was its role in the unrest after Iranian's disputed elections.
"This time you clearly interfered in Iran's domestic affairs and you thought you would be able to harm the Islamic nation," the official IRNA news agency quoted [Amhadinejad] as saying on Sunday. "You should be held accountable for your actions but we know very well the fuss you created in the world is not a sign of your authority but rather it is a sign of your weakness and downfall," Ahmadinejad said. Tehran and the West are already at odds over Tehran's nuclear work, which Washington fears is aimed at making bombs but which Iran, the world's fifth-biggest oil producer, says is for peaceful electricity generation.
---