Iran gives IAEA more access to nuclear sites
(Read article summary)
The move comes days before the UN nuclear watchdog will release a report on Iran's nuclear program that is expected to be critical.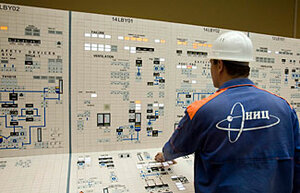 Caren Firouz/REUTERS/FILE
• A daily summary of global reports on security issues.
In a move that could herald greater cooperation between Iran and the West, President Mahmoud Ahmadinejad's government has agreed to grant United Nations inspectors greater access to its uranium-enrichment facility at Natanz and the nearly completed heavy-water reactor outside Arak.
The new agreement comes only days before the International Atomic Energy Agency (IAEA) will release a report on the country's nuclear program that is expected to be highly critical.
Under the new agreement, The Guardian reports that Iranians will change their work patterns to make it easier for IAEA cameras already in place at the Natanz enrichment facility to monitor their work. Inspectors will ensure that Iranians are using centrifuges to produce only low-enriched uranium used for power generation, as opposed to highly-enriched uranium used for nuclear weapons. Iran also allowed inspectors into the heavy-water reactor for the first time in a year.
---
Follow Stories Like This
Get the Monitor stories you care about delivered to your inbox.