Iran tests short-range missiles amid nuclear dispute
(Read article summary)
Sunday's missile tests come after the US, Britain, and France revealed Iran's secret nuclear facility, and Israeli Prime Minister Benjamin Netanyahu is urging US lawmakers to act now.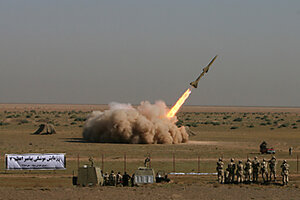 Ali Shaigan/Fars News Agency/AP
• A daily summary of global reports on security issues.
Iran tested two types of missiles and a missile-launching system Sunday, according to the country's state-run Press TV news service.
The tests come ahead of this week's landmark talks between Iran, Germany, and the five members of the United Nations Security Council (US, Britain, France, China, and Russia) and just two days after President Obama, British Prime Minister Gordon Brown, and French President Nicolas Sarkozy accused Iran of building a secret uranium enrichment facility.
Iranian President Mahmoud Ahmadinejad has denied that his nation is using its nuclear program to develop weapons and predicted that Messrs. Obama, Brown, and Sarkozy, would "regret" their very public revelation of Iran's secret facility at the G-20 summit in Pittsburgh.
Israeli Prime Minister Benjamin Netanyahu, meanwhile, has seized upon the announcement to urge US leaders to act now against Iran.
---