In Pakistan, suicide blast kills 30 near military headquarters
(Read article summary)
The suicide attack in Rawalpindi, Pakistan came hours after Pakistan announced a $5 million total bounty for 21 top Talilban leaders wanted 'dead or alive.'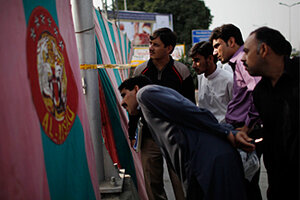 Alexandre Meneghini/AP
• A daily summary of global reports on security issues.
A suicide bomber killed more than 30 and injured 45 more in a high-security area of Rawalpindi, Pakistan on Monday.
The blast, which apparently targeted military personnel and civilians who had gathered at the bank to collect salaries and pensions, is the latest in a wave of suicide and hostage-taking attacks that have left nearly 200 dead in a month.
The attack shows again how terrorists' reach has extended into relatively safe areas of Pakistan's major cities, and underscores the scope of the security threat facing the Pakistani government. It came just hours after Pakistan announced a bounty on 21 top Taliban leaders, saying they were wanted "dead or alive."
Monday's blast followed last Wednesday's attack on a market in the northwest city of Peshawar that killed at least 118, and an attack just hours later that day on the United Nations office in the capital, Islamabad, that killed five.
The Pakistan daily Dawn reported that Monday's blast occurred on Mall Road, in the "high-security" area of Rawalpindi Cantt, which houses major hotels and key government and military facilities.
Monday's explosion left bodies on the ground outside the bank and in a nearby hotel parking lot, witness Zahid Dara said. The stricken area also lies close to the army's main headquarters.
'I was nearby and rushed toward the parking area,' Dara told a private television channel. 'There were many people lying on the ground with bleeding wounds, and a motorcycle was on fire with one man under it.'
---