Pakistan intelligence agency in Peshawar hit by suicide bomber
(Read article summary)
The suicide bomb attack on the ISI regional HQ in Peshawar, Pakistan, left at least 10 dead.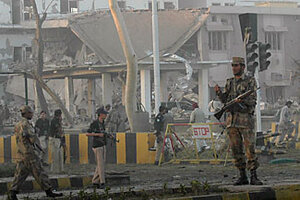 Reuters
• A daily summary of global reports on security issues.
A powerful car bomb in the border city of Peshawar has left more than 10 dead and dozens wounded in an apparent attack on the regional headquarters of Pakistan's intelligence agency, which has long been accused by Western officials of having ties to militant groups.
Reuters reports that the attack on the Inter-Services Intelligence agency (ISI) building appears to have been delivered by a suicide bomber driving a medical-supply vehicle, according to one of the wounded soldiers at the scene.
"All of a sudden [the vehicle] appeared on the wrong side of the road and began coming toward the office," the soldier, Nasir, told Reuters. "The guards opened fire but it came to the entrance of the building as the firing went on and exploded."
It was not clear how many people were in the building when the bomber struck at about 6:40 a.m. (8:40 p.m. EST Thursday), before the city's rush-hour.
The attack collapsed the part of the three-story ISI building and killed seven military officials, writes Agence France-Presse.
"
Up to 300 kilograms (660 pounds) of high explosives and mortars were packed into the car bomb," North West Frontier Province police chief Malik Naveed told AFP.
---