US shuts Yemen embassy as part of new focus on Al Qaeda
(Read article summary)
Underscoring the redoubled effort of the US to fight terrorism in Yemen, Gen. David Petraeus visited Yemen Saturday after announcing Friday that the US would double its counterterrorism aid to Yemen from $67 million in 2009.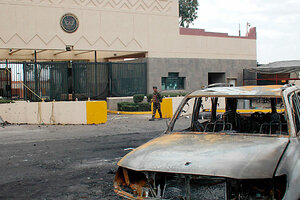 Reuters / File
The US and Britain closed their embassies in Yemen Sunday, citing threats from Al Qaeda. Coming one day after President Obama publicly linked the Al Qaeda branch in Yemen to the failed airline bomb plot on Christmas Day, the move signals that the US is now taking the growing Al Qaeda threat in Yemen more seriously.
 
BBC News reports that it is unclear how long both embassies will remain closed. The US embassy released a statement saying that it would be closed Sunday, but did not specify when the mission would reopen. Agence France-Presse also reports that the US embassy sent a message to US citizens in Yemen Thursday reminding them of the terrorist threat.
The US embassy in Yemen's capital, Sanaa, has been attacked before: In 2008, a car bomb attack killed 19 people, including one American. And in 2000, the attack on the USS Cole killed 17 American sailors, as The Christian Science Monitor reported recently in a review of Al Qaeda-linked attacks that have involved Yemen.
---