Suicide bomb in Russia's Dagestan follows strike on Al Qaeda
(Read article summary)
A suicide bomb in Russia's restive Caucasus region closely follows a strike that took out Al Qaeda's appointed 'Amir' in the majority-Muslim republic of Dagestan. The suicide bomb killed six and wounded 14.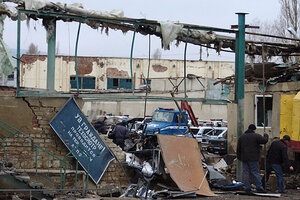 Yevgeny Kostin/Reuters
A suicide bomber plowed a car laden with explosives into a police station in Russia's north Caucasus region Wednesday, killing six police officers and wounding 14. The attack comes just days after police took down Al Qaeda's appointed 'Amir' in the region.
The violence, which took place in the Muslim majority republic of Dagestan, underscores that an Islamist-led insurgency in the Caucasus area has escalated sharply, possibly threatening to penetrate the Russian heartland. Russian President Dmitri Medvedev has called it Russia's single biggest domestic problem, according to Reuters.
The attack is also worrying because it seems to showcase yet again the capacity of Al Qaeda's affiliates to strike targets around the globe.
For the past decade, Russia has struggled to contain flaring uprisings in its Muslim majority North Caucasus republics, namely Chechnya, Ingushetia, and Dagestan. In those areas, poverty and strong-handed government crackdowns have created wide support for Islamist insurgents.
Dagestan, a mountainous republic rich in oil and gas reserves, is nestled on the Caspian Sea. Since the late 1990s it has been the staging ground for a growing conflict between government security forces and Islamist rebels clamoring for an independent state based on Islamic law, reports the BBC. (See map of the area from the BBC here.)
---
Follow Stories Like This
Get the Monitor stories you care about delivered to your inbox.