Yemen says plane bomber met with radical cleric, resists US military presence
(Read article summary)
As the US focuses more on Yemen after the foiled Christmas Day attack by suspected plane bomber Nigerian Umar Farouk Abdulmutallab, Yemeni officials are resisting any suggestion of bringing US military forces into the country.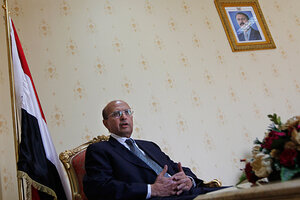 Nasser Nasser/AP
Yemen has rejected any suggestion to deploy American combat forces inside their country, as the US turns more attention to the impoverished Arab nation where Yemeni officials have now said the foiled Christmas Day plane bomber received Al Qaeda training.

A statement to that effect, by Foreign Minister Abu Bakr al-Qirbi, highlights the challenges facing the US as it attempts to rout out Al Qaeda in the Arabian Peninsula (AQAP) in an allied country that is deeply uneasy about its new starring role in the so-called war on terror.

Speaking to the Associated Press, al-Qirbi said Yemen welcomes American military assistance in the form of training, intelligence, and logistics, "but not in any other capacity," citing "sensitivity" among Yemenis.

That may also be due in part to the sensitivity of the country's Islamic conservatives, who hold some sway within the military and upon whom President Ali Abdullah Saleh relies for political support. They may resist close cooperation with the US, says the P.


As a result, while Yemen has embraced U.S. help, Saleh is deeply wary of giving up too much authority or appearing to be a tool of Washington, a charge often leveled by extremists against Afghan President Hamid Karzai.
---