Drone targets Pakistan Taliban chief Hakimullah Mehsud. Is he dead?
(Read article summary)
A US drone strike killed at least 10 militants in Pakistan Thursday. A Pakistani security official says Pakistan Taliban chief Hakimullah Mehsud was 'probably' killed.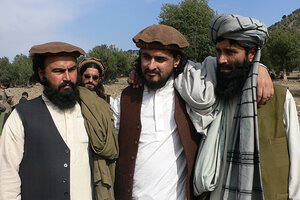 Ishtiaq Mahsud/AP/File
The fate of Pakistani Taliban leader Hakimullah Mehsud remains uncertain after suspected US drone attacks in Pakistan killed at least 10 militants on Thursday. While local media reports have indicated that the strike may have killed the Tehrik-e-Taliban Pakistan (TTP) leader, the group's spokesman issued a statement saying that the leader was present, but unharmed by the missile strike.
As the US escalates the war in Afghanistan, eliminating key players such as Mr. Mehsud has become a more intense focus. The US, however, rarely confirms attacks in Pakistan, and it is often difficult to verify whom the attacks kill. After a drone attack killed former TTP leader Baitullah Mehsud in August, the group denied his death for weeks during an apparent succession struggle.
The reach of Mehsud goes well beyond Pakistan. In a recently released video, he appeared alongside the Jordanian suicide bomber who killed seven CIA operatives and a Jordanian intelligence officer in Afghanistan. A senior Pakistani security official told the Pakistani daily Dawn that the TTP leader had been the target of Thursday's attack and "has probably been killed."
"It is immaterial to say how many have been killed in the attack. The important thing for us is whether Hakeemullah is amongst those killed," the official said, requesting he not be named.
---