Virginia shooting suspect surrenders after all-night police chase
(Read article summary)
The Virginia gunman allegedly killed eight in Appomattox before fleeing to the woods and later turning himself in. It's the region's deadliest shooting since the 2007 Virginia Tech rampage.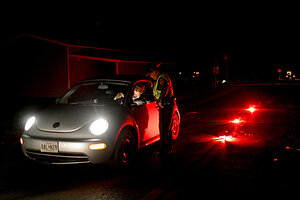 Nick Adams/The News & Advance/AP
The lone gunman who allegedly killed eight people Tuesday before firing at police in Appomattox County, Va., surrendered Wednesday morning after an all-night police chase through the woods near the suspect's home.
The day after the shooting that a spokesman for Virginia Gov. Robert F. McDonnell called a "horrific tragedy," state police waited for daylight to try to flush him out from the woods, reports The News & Advance, a Lynchburg, Va., newspaper.
[State Police spokesperson Corinne Geller] said the perimeter was manned vigilantly during the evening, but because of officer safety concerns, the state, local and federal officials were conservative in their approach.
Officials closed all schools in the area and evacuated some families from their homes as police warned them that the gunman was considered armed and dangerous.
Authorities say that Christopher B. Speight killed eight people Tuesday, including his wife and son, in what was apparently his home in the rural area near historic Appomattox, reports The News & Advance. (Click here for a map of the region from Agence France-Presse.)
At about noon Tuesday, emergency officials received a call about a man lying wounded in a street, and heard gunshots when they arrived at the location. That man apparently died after he was taken to a hospital. Four more bodies were found outside a nearby home, and three inside.
---