Venezuelan students protest Chávez's TV censorship
(Read article summary)
President Hugo Chávez's government says TV stations violated the law by failing to broadcast his speeches.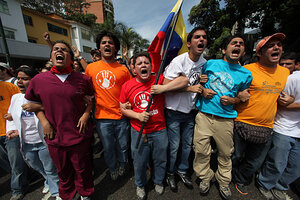 Fernando Llano/AP
Venezuelan students took to the streets Monday to protest the government's decision to ban six TV stations, including the frequent voice of criticism Radio Caracas Television (RCTV), from broadcasting. The ban has provoked international concern, as some see it as an effort by Venezuelan President Hugo Chávez, who faces parliamentary elections this year, to silence political opponents.
The Los Angeles Times reports that the protests began after cable companies dropped the stations from their transmissions in compliance with government orders. The Venezuelan government declared that the stations had violated Venezuelan telecommunications laws by failing to broadcast Mr. Chávez's speeches.
Students from four Caracas universities blocked traffic, causing transportation snarls and the dispersion of riot police armed with tear gas and truncheons. Protests were also reported in Merida, Valencia, Ciudad Guayana, and the port city of Maracaibo, where four marchers protesting the RCTV ban were reportedly injured when a Chávez supporter drove his car into a rally.
---