UN says Iran enriching more uranium, warns of nuclear bomb program
(Read article summary)
A new report by the UN's nuclear watchdog warned that Iran appears to be pursuing a nuclear bomb and said the country is boosting its uranium enrichment efforts.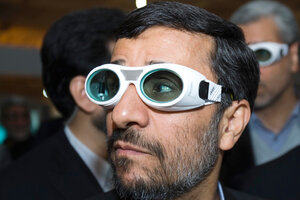 NEWSCOM/FILE
• A daily summary of global reports on security issues.
The International Atomic Energy Agency raised public concerns for the first time Thursday that Iran is seeking to develop nuclear weapons, a move that may boost the US effort to impose new sanctions on Tehran.
A new report released by the UN's nuclear monitoring agency confirmed that Iran has produced a first batch of more highly enriched uranium, reports The Washington Post. Iranian President Mahmoud Ahmadinejad announced that Iran had enriched uranium to 20 percent last week (a claim met with some skepticism, as the Monitor reported). The report also cited Iran's failure to explain the purchase of sensitive technology, as well as tests of detonators and missile designs that are associated with nuclear warheads. Inspectors also found that Iran had moved most of its stockpile of low-enriched uranium to a site used to enrich the nuclear fuel to higher levels.
---