Qaddafi calls for jihad against Switzerland: Is it funny?
(Read article summary)
Libyan strongman Muammar Qaddafi called for jihad against Switzerland, the latest in a tit-for-tat dispute dating back to the 2008 arrest of one of Qaddafi's sons. Some find humor in the latest from the dictator.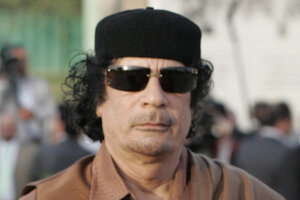 NEWSCOM/FILE
• A daily summary of global reports on security issues.
Libyan strongman Muammar Qaddafi has ratcheted up his campaign against Switzerland by calling for jihad, or holy war, against the European nation.
The two nations have been engaged in tit-for-tat arrests and sanctions in a dispute dating back to 2008 that has become a concern across Europe. But this is the first time the Libyan has called for jihad, a substantial heightening of the rhetor
The British daily The Daily Telegraph quoted Qaddafi after he gave a "rambling" address.
"Any Muslim in any part of the world who works with Switzerland is an apostate, is against [the prophet] Mohammad, and God and the Koran," he told a meeting in the eastern Libyan city of Benghazi.

"The masses of Muslims must go to all airports in the Islamic world and prevent any Swiss plane landing, to all harbors and prevent any Swiss ships docking, inspect all shops and markets to stop any Swiss goods being sold."
Later in his address, Qaddafi distinguished his proposed holy struggle from Al-Qaeda-style terrorism, saying: "There is a big difference between terrorism and jihad which is a right to armed struggle."
---