China's military spending slows, on paper
(Read article summary)
After more than two decades of double-digit annual growth in defense spending, Beijing announced its budget would grow 7.5 percent in 2010. But analysts say China's military spending is only slowing on paper.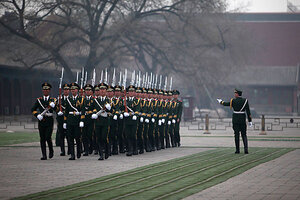 Nir Elias/Reuters
• A daily summary of global reports on security issues.
China's military spending will grow by 7.5 percent in 2010, the smallest increase in more than two decades of double-digit yearly growth, Beijing announced Thursday.
Decades of rapid growth of China's military, which has the largest standing army in the world with more than 2.3 million members, has aroused alarm from the West and some of China's neighbors. Analysts say the smaller growth this year is probably due to the global financial crisis, as well as an attempt to assuage international fears over China's rapidly expanding arsenal.
The Associated Press reports that parliament official Li Zhaoxing said this year's budget increase, bringing expenditures to about $77.9 billion, will be used to "meet various threats," and that China's military is "defensive in nature." He said that China's defense spending makes up 1.4 percent of its gross domestic product (GDP), while defense spending in the US is more than 4 percent of GDP and more than 2 percent in Britain, France, and Russia.
But many foreign analysts consider China's actual military spending to be double what was announced, the AP reports.
The smaller rise in spending is due in part to the hit China's economy, especially the crucial export sector, has taken from the global financial crisis, prompting the government to rein in some expenditures, said Ni Lexiong, a defense analyst at Shanghai University of Political Science and Law.

Meanwhile, the leadership has realized that large increases are generating concern and suspicion among China's neighbors, potentially sparking an arms race, he said.
---