Singapore raises terror alert on Malacca Strait, one of the world's most important oil shipping lanes
(Read article summary)
Indonesia, Malaysia, and Singapore raised terror alert levels after a tip-off that terrorists are planning to attack vessels in the Malacca Strait. The threat hasn't prevented millions of barrels of oil from being shipped through the strait daily.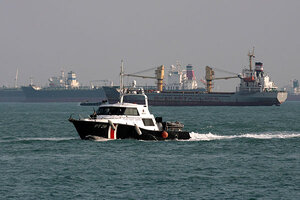 Vivek Prakash/Reuters
• A daily summary of global reports on security issues.
Indonesia, Malaysia, and Singapore raised security alerts today following a foreign tip that terrorists are plotting to attack vessels plying the Malacca Strait, though millions of barrels of oil continue to pass through daily.
"All alert levels have been raised, not just for ships, but also for the security measures that we have undertaken for Singapore," Singapore's home affairs minister said today in Parliament.
In one of the world's busiest waterways, a disruption in the strait – the narrow body of water between Malaysia and Indonesia (see map) – would have a massive ripple effect on regional and world economies. Roughly one-third of oil shipments transported by boat pass through the strait, making it one of the two most important oil shipping lanes in the world, according to 2006-07 data from the US Department of Energy.
---