Russian invasion hoax has Georgia opposition in uproar
(Read article summary)
A fake TV report in Georgia that claimed a Russian invasion was in progress and that President Mikhael Saakashvili had been killed has drawn fury from citizens and the political opposition.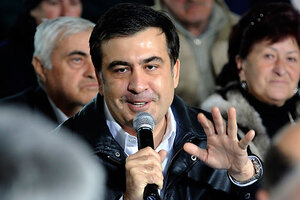 Irakly Gedenidze/Presidential Press Service/AP
• A daily summary of global reports on security issues.
(Update: Georgian opposition leader slams hoax in a Monitor interview.)
A fake news report in Georgia about a Russian invasion ignited widespread panic and now anger at the perpetrators.
The 20-minute broadcast Saturday night on the Imedi TV station showed footage of tanks rolling into Georgia taken from the 2008 invasion and said that Saakashvili had been assassinated. The station introduced the program as a simulation, but many who tuned in mid-way were convinced the news was real.
The Georgian opposition, depicted in the broadcast as assisting the fake Russian invasion, accused President Mikhael Saakashvili of signing off on the program in a bid to stoke fear and tarnish their image. The director of Imedi is a former Saakashvili government official. US and Russian officials have denounced the bogus report (see video clips from the report below)
"People went into a panic," Bidzina Baratashvili, a former director of Imedi, told The New York Times, comparing the mock news broadcast to Orson Welles's 1939 adaptation of "War of the Worlds," which depicted an alien invasion and panicked many radio listeners.

---