Jihad Jane pleads not guilty to terrorism charges
(Read article summary)
Colleen LaRose, also known as Jihad Jane, pleaded not guilty to terrorism charges in Philadelphia Thursday. Reports say she has already confessed to the FBI her role in a murder plot.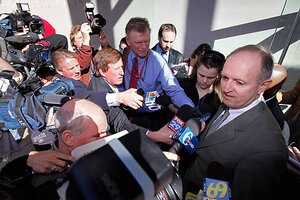 Matt Rourke/AP
• A daily summary of global reports on security issues.
Colleen LaRose, known popularly by her Internet aliases "Jihad Jane" and "Fatima Rose," pleaded not guilty on Thursday to plotting with militant Muslims abroad to commit terrorist acts in Europe and Asia. Her plea is the latest in a string of high-profile 'homegrown terrorists' who are now taking the stand in court.
The Pennsylvania resident faces four criminal charges, including conspiracy to provide support to terrorists, conspiracy to kill in a foreign country, lying to the FBI, and identity theft. (Read the unsealed indictment here.)
Her trial is set for May 3. If convicted, she could face a life sentence and a $1 million fine.
Ms. LaRose, however, is said to have confessed to the FBI soon after her October arrest about her role in the plot, according to the Philadelphia Inquirer, citing two sources close the investigation. Her not guilty plea is routine and does not preclude a negotiated plea agreement, the Inquirer adds.
---