Israel strikes Gaza smuggling tunnel after rocket attack
(Read article summary)
An Israel airstrike early Monday morning targeted a smuggling tunnel in Gaza in retaliation for a militant rocket attack on Israel.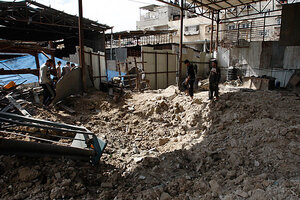 Hatem Moussa/AP
• A daily summary of global reports on security issues.
Israeli planes launched an airstrike on smuggling tunnels in Gaza early Monday in response to a rocket attack from the territory on Sunday.
The attacks come following a week that saw increased Palestinian rocket attacks and retaliatory Israeli airstrikes after Israel announced new settlement construction in the occupied territories.
Israeli newspaper Haaretz reports that Monday's predawn Israeli attack into Gaza followed a Qassam rocket attack on Israel. The Qassam, which hit a field and did not cause any injuries, followed several Israeli attacks on Gaza over the past week that wounded dozens.
Al Jazeera reports that no one was injured in Monday's airstrike, which hit a tunnel the Israeli military said was used for arms smuggling. Because of Israel's nearly three-year-old economic embargo of the territory, Gazans import most of their goods through tunnels underneath the border with Egypt. Tunnel owners operate with relative impunity, importing the goods that keep the Gaza Strip going, ranging from basic supplies like food to animals and weapons for militants. Israel frequently bombs the tunnels in retaliation for Palestinian attacks.
---