Al Qaeda kills dozens in multiple attacks in Baghdad
(Read article summary)
Al Qaeda is blamed for a series of attacks Tuesday in Baghdad. Insurgents, who have killed more than 100 in the past week, seek to exploit the delay in forming a new Iraq government after last month's election.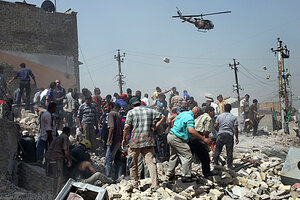 Karim Kadim/AP
• A daily summary of global reports on security issues.
Multiple blasts tore through apartment buildings and residential areas of Baghdad on Tuesday, killing scores and coming on the heels of coordinated bombings Sunday as Iraq's politicians jockey for power in the aftermath of elections that left control of the government up for grabs.
The Associated Press reports that five to seven bombs were detonated throughout the capital, killing at least 39 and wounding more than 130. It was the most recent of four attacks over the past five days that have killed more than 100 people.
Agence France-Presse reports that the explosions targeted mostly Shiite areas of Baghdad, while Al Jazeera reports that the areas were a mix of Sunni and Shiite neighborhoods. Some observers had feared that a protracted political stalemate in Iraq would lead to intensified sectarian attacks.
Early casualty counts were uneven as rescuers searched for survivors. AP reports that Iraqi officials claimed seven blasts, while the US Embassy in Baghdad said there were five. Reuters reports that seven buildings were destroyed in the blasts, and reported the death toll was at least 28.
---