Thailand government faces new pressure to ease Thai protests
(Read article summary)
After weeks of Thai protests calling for the government to resign, the country's military chief and electoral commission weighed in.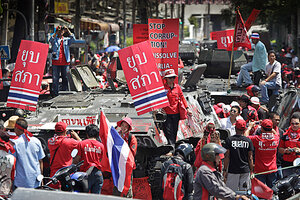 David Longstreath/AP
Despite a deadly face-off with the military over the weekend, antigovernment "Red Shirt" protesters in Thailand vowed to continue their protest until the government resigns. The country's ruling party is also facing pressure from the electoral commission over reportedly misusing campaign donations.
If the government does not step down, it could possibly be forced to do so by Thailand's constitutional court. The electoral commission will give its recommendation to the attorney general, who will then decide whether to pass the case to the country's highest court. While this procedure normally takes as long as six months, legal officials say they will expedite it. The court has the power to dissolve the ruling Democrat Party and ban Prime Minister Abhisit Vejjajiva from politics.
Thailand has a history of standoffs like this, so the legal system is equipped to deal with them. The constitutional court removed Somchai Wongsawat as prime minister in 2008. If the court successfully intervenes in the standoff, many people in Thailand say it will provide a clear way to restore the rule of law and peacefully end the standoff in such a way that is good for protesters and the embattled prime minister, reports the Financial Times.
---