Philippines troops hunt Abu Sayyaf militants after terrorist bombings on Basilan
(Read article summary)
A series of coordinated terrorist bombings on the southern Philippines island of Basilan left 13 dead on Tuesday. The Philippines military blamed the attack on the Abu Sayyaf Group.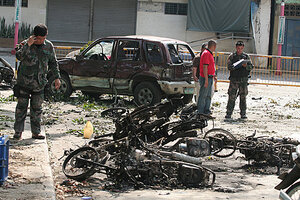 Al Jacinto/AP
Hundreds of troops and policemen continued to hunt militants Wednesday in the southern Philippines after terrorist bombings yesterday that left at least 13 dead, including civilians and suspected militants. The attack demonstrated the continued volatility of the southern Philippines, where US troops have been stationed since 2002 to train and equip local forces in their fight against separatists.
On the southern island of Basilan, men dressed in military and police clothing set off a series of bombs in the city of Isabela and fired on people trying to flee. Lt. Gen. Ben Dolorfino told the BBC that the Abu Sayyaf Group, a militant organization that is sometimes described as Islamist separatists but which is also heavily involved in kidnap-for-ransom and other criminal enterprises, was behind the attack. One Abu Sayyaf leader, Bensar Indama, had been reported among the dead. The Abu Sayyaf is small, with about 390 fighters according to the Associated Press, but still manages to pull off the occasional spectacular attack:
---
Follow Stories Like This
Get the Monitor stories you care about delivered to your inbox.