Afghanistan war: Kandahar hit by two car bombs
(Read article summary)
Two large car bombs exploded in Kandahar Thursday night killing two Afghans and wounding dozens.The attacks come ahead of a major NATO offensive in the Afghanistan war.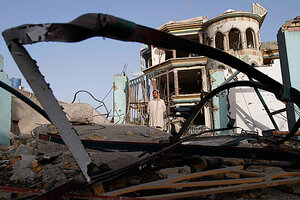 Rahmat Gul/AP
Two massive car bombs went off in southern Afghanistan on Thursday, killing at least two people and wounding more than a dozen others. The attacks in the Taliban stronghold of Kandahar come ahead of a major NATO offensive in the area to drive out the fundamentalist group. The attacks led one official to call for better intelligence-gathering in preparation for this next phase of the Afghanistan war.

Initial reports said that Britons had been killed in the second blast, which struck a compound housing foreign workers and was so powerful it collapsed nearby buildings. But Kandahar's provincial governor said on Friday that only Afghan citizens had been killed, reports the Telegraph.

Three Americans and one south African were injured and sources said a Briton had been wounded but was not in a serious condition. The wounded were being treated in the nearby Nato hospital at Kandahar airfield.

The 9 pm blast struck a compound housing the offices of the international contracting company Louis Berger Group, the Afghanistan Stabilization Initiative and the aid contracting company Chemonics International.

Windows were blown out across the city and it followed hours after another attack against a Kandahar hotel which wounded eight.

Tooryalai Wesa, governor, said there had been no claim of responsibility for the bombing, which according to some reports involved a fuel tanker.

---