Ahmadinejad flexes military muscle as news of secret Gates Iran memo ripples
(Read article summary)
A secret memo from US Defense Secretary Robert Gates warned the White House in January that the US lacks a long-term plan to deal with Iran, according to reports. News of the Gates Iran memo is causing a stir in Washington.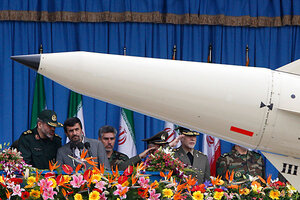 Vahid Salemi/AP
In a secret three-page January memo, US Defense Secretary Robert Gates cautioned the White House that the nation lacks an effective long-term plan to deal with the continuing growth of Iran's nuclear program, reports the New York Times.
The Gates Iran memo has sparked efforts from the White House, Pentagon, and intelligence services to provide President Obama with potential military options in the event that diplomatic actions fail.
While an official familiar with the document called it a "wake-up call," other White House officials insist that the Obama administration has been developing different options and strategies for the past 15 months.
Meanwhile, Iran has continued its confrontational stance towards the US, with Iranian President Mahmoud Ahmadinejad calling on the US to destroy its nuclear arsenal and withdraw troops from Iraq and Afghanistan.
Jones: The US is ready
Speaking with The New York Times, which first reported the existence of the memo, Mr. Obama's security adviser, Gen. James Jones did not specifically address the memo, but denied that the US government is unprepared to deal with a nuclear Iran.
---