Authorities search for suspects after Times Square car bomb scare
(Read article summary)
The morning after a Times Square car bomb failed to detonate, authorities are launching a wide probe to find the suspects.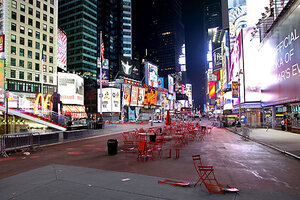 Craig Ruttle/AP
• A daily summary of global reports on security issues.
Authorities still had no motive or suspects early Sunday morning after police disabled a Times Square car bomb.
Thousands of people, many of them tourists, were cleared from a twelve-block area around the landmark New York intersection when a vendor noticed smoke billowing from a Nissan SUV around 6:30 p.m. Saturday and reported it to police.

Onlookers were startled by the sight of teams of responding, officers carrying automatic weapons, and a bomb squad robot.
In a 2:15 a.m. press conference, New York Mayor Michael Bloomberg said the city had avoided what could have been "a very deadly event," but still had "no idea who did this or why," reports The New York Times.
Police officers from the emergency service unit and firefighters flooded the area, but were troubled by the hazard lights and running engine, and by the fact that the SUV was oddly angled in the street. At this point, a firefighter from Ladder 4 reported hearing several "pops" from within the vehicle. The police also learned that the Pathfinder had the wrong license plates on it.

Members of the Police Department's bomb squad donned protective gear, broke the Pathfinder's back windows and sent in a "robotic device" to "observe" it, said Deputy Commissioner Paul J. Browne, the police department's chief spokesman.

Inside, they discovered three canisters of propane like those used for barbecue grills, two five-gallon cans of gasoline, consumer-grade fire works — the apparent source of the "pops" — and two clocks with batteries, the mayor said. He said the device "looked amateurish."
---