Thai red shirts refuse to back down despite PM's reconciliation plan
(Read article summary)
Thai red shirt protesters met with Prime Minister Abhisit Vejjajiva on Tuesday, who offered to hold parliamentary elections in November. Protest leaders say they will not end their Bangkok occupation unless elections are held by September.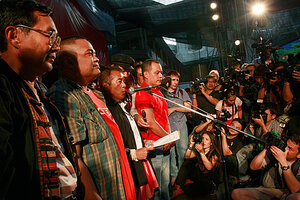 Apichart Weerawong/AP
• A daily summary of global reports on security issues.
Thailand's violent protests appeared closer to peaceful resolution after anti-government demonstrators agreed to Prime Minister Abhisit Vejjajiva's five-point reconciliation plan. Despite the agreement reached Tuesday, the Red Shirt protesters are refusing to call off demonstrations.
Some 30 protest leaders met Tuesday night with Abhisit's government to begin the negotiations. They later told supporters that they had not asked for amnesty, only that justice be served, reports The Times of London.
But among many points of contention, the "red shirts" are upset about the Nov. 14 election date the agreement sets forth. The protesters want representatives in power by September, which is when a new budget is passed and the military is reorganized. The "red shirts" – so-called for the color of clothing they wear, formed the political party the United Front for Democracy against Dictatorship (UDD) in 2006.
Al Jazeera reports that both sides will likely put up tough negotiations. Presently, protesters complain that Mr. Vejjajiva's proposal has has too many "get out clauses."
---