Russian warship wins shootout with Somali pirates, rescues sailors
(Read article summary)
A Russian warship rescued 23 Russian sailors at dawn today. The men were taken hostage Wednesday when their oil tanker was hijacked by Somali pirates.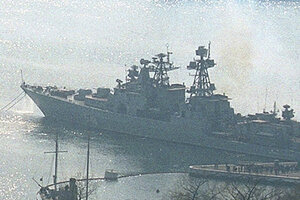 AP/File
• A daily summary of global reports on security issues.
The crew of a Russian warship engaged in a firefight with Somali pirates during a dawn raid on Thursday, and successfully released 23 seamen who had been taken hostage aboard an oil tanker a day earlier.
The vessel was hijacked Wednesday morning in the Gulf of Aden while it was en route from Sudan to China carrying 86,000 tons of crude oil worth $52 million.
The raid against the Liberian-flagged tanker, the Moscow University, occurred after the crew locked themselves in the ship's rudder compartment, according to The New York Times.
---