North Korea claims successful nuclear fusion test
(Read article summary)
Turning nuclear fusion into a viable energy source has long eluded the world, but North Korea on Wednesday claimed success. Analysts are dubious and say the claim likely meant for leverage in six-party talks.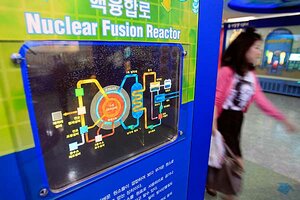 Lee Jin-man/AP
• A daily summary of global reports on security issues.
North Korea says it has successfully achieved nuclear fusion, an efficient yet difficult-to-control technique for creating power. But experts doubt the claim, noting that even the world's most advanced countries have yet to successfully harness fusion as a power source, and North Korea lacks the technology and resources to fulfill even its basic electrical power needs.
Pyongyang announced the creation of a "Korean style" thermonuclear reaction Wednesday in state-controlled media.
"The successful nuclear fusion marks a great event that demonstrated the rapidly developing cutting-edge science and technology of the DPRK [Democratic People's Republic of Korea]," wrote Rodong Sinmun, the newspaper of the ruling communist party, as quoted by Agence France-Presse. The Rodong Sinmun said the North's experts had worked hard to develop the "safe and environment-friendly new energy" technology.
BBC News notes that controlled laboratory demonstrations of nuclear fusion are not uncommon, but that North Korea appears to be claiming something more than that, as Pyongyang mentions having created a "unique thermo-nuclear reaction device." Nuclear fusion generates heat when two atomic nuclei fuse together. Research has been conducted into creating power with fusion for over 50 years.
---