Rights groups say new evidence suggests Sri Lanka war crimes against Tamil Tigers
(Read article summary)
Human Rights Watch and the International Crisis Group have each released new evidence implicating the Sri Lanka government in war crimes during its offensive against the Tamil Tigers one year ago.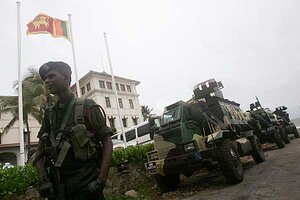 Andrew Caballero-Reynolds/Reuters
• A daily summary of global reports on security issues.
Two independent human rights groups published reports this week accusing the Sri Lanka government of war crimes during the final months of its war against the Tamil Tigers, which ended last May.
In its report published Thursday, Human Rights Watch (HRW) offered a series of photos showing a man, identified as a member of the Tigers' political wing in the city of Jaffna, apparently being held by Sri Lankan forces. In the first two photos, he is bloodied but alive and tied to a tree, surrounded by what appear to be soldiers. In the subsequent photos, he is shown lying against a rock, apparently dead, with additional injuries to his head and torso.
HRW writes that while the photos do not prove that the man was summarily executed while in custody, "the available evidence indicates that a full investigation is warranted." HRW also cites several photos of dead female Tiger members, which raise concerns that the pictured women might have been abused or mutilated by government forces.
---