Russia terror attack kills six, wounds dozens in North Caucasus
(Read article summary)
A bomb disguised as a pack of juice exploded Wednesday evening in the southern Russian city of Stavropol, killing at least 7 and wounding more than 40. Investigators have opened a case under terrorism laws.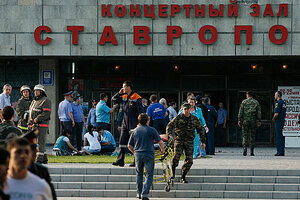 AP
• A daily summary of global reports on security issues.
An explosion killed at least seven people and wounded more than 40 others Wednesday evening in Stavropol, a southern Russian city that had seemed immune from growing violence in the north Caucasus.
Authorities said a remote or timer-controlled bomb went off outside the House of Culture and Sport, near the city center, shortly before the start of a concert by a dance company linked with Kremlin-backed Chechen President Ramzan Kadyrov. Stavropol is the administrative seat of the ethnically Russian Stavropol Territory, which borders the embattled, mainly Muslim republics of Chechen and Dagestan republics (map).
Authorities say the explosion was equivalent to about a pound of TNT, reports RIA Novosti. Reuters reports that the bomb was equivalent to 400 grams of TNT, and disguised as a pack of juice. No one has yet claimed responsibility for the blast, but police found an improvised explosive device, a gun, and ammunition while searching the homes of two suspects.
Investigators opened a criminal case under terrorism laws, the prosecutor general's office said in a statement.
---