Is China backing away from censuring North Korea over the sinking of South's Cheonan warship?
(Read article summary)
Despite indications last week that it might take a harder line on North Korea over the North's apparent sinking of South Korea's Cheonan warship, China now appears unwilling to censure its Communist ally.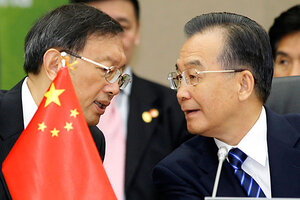 Lee Jae-won/AP
• A daily summary of global reports on security issues.
China appears to be maintaining its unwillingness to censure North Korea for its involvement in the sinking of a South Korean warship, despite earlier indications to the contrary, as a summit between China, Japan, and South Korea ended without any public statement concerning North Korea.
The Korea Times reports that Chinese Primier Wen Jiabao, Japanese Prime Minister Yukio Hatoyama, and South Korean President Lee Myung-bak made a joint statement at a news conference Sunday calling for regional peace and stability. But despite efforts by Mr. Lee to convince China to join in the international condemnation of North Korea's sinking of the South Korean cruiser Cheonan, the joint statement made no mention of North Korea.

---